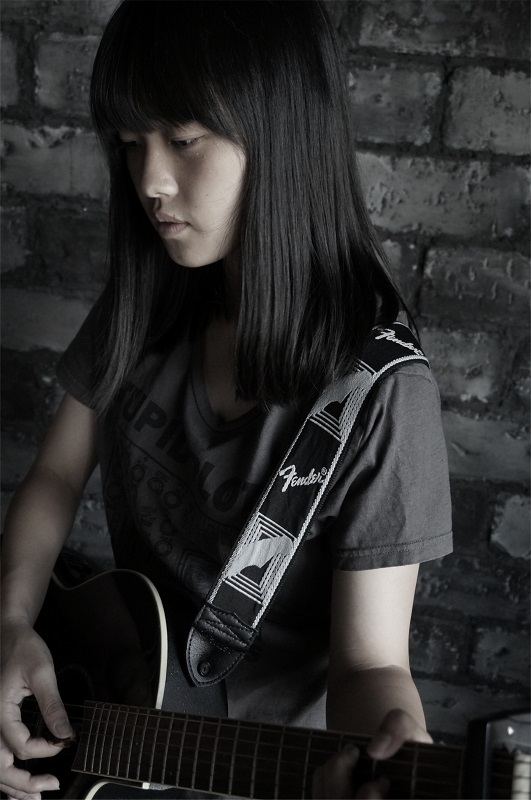 Sakura
Sakura was born in April 24, 2000 in Fukui JAPAN. She is a singer
songwriter who expresses by only an acoustic guitar and her voice. She
was exposed to music daily from early childhood because her parents
were bandsman. Thanks to it, she was interested in singing and playing
music naturally and began to play the guitar when she was a 6th grader
of elementary school.
She post her first song which was wroted in English (when she was 16
years old) on YouTube in February 2017. There are good response, so
she released a CD with 5 songs from indies label ROADSIDE RECORDS in
same year May.
She joined in the Japan tour of American pop punk band. It was the
first gig for her. After that, she had many gig such as in Fukui,
Kanazawa, Tokyo, and Sendai. She joined in a punk circuit event
called MATSURI in Tokyo. In 2017, she joined in a compilation CD from
punk indies label called I HATE SMOKE RECORDS, and in 2018, joined in
Fukui's compilation CD "hometown 2". In September, she appeared on the
foyer stage (sub-stage) of FM Fukui BEAT PHOENIX 2018.
2ndCD "WHEREABOUTS" with 7 songs was released in November, 2018. In
February 2019, She joined USA pop-punk band EVEN IN BLACKOUTS' Japan
Tour (Tokyo, Osaka x2 and Hiroshima). In March, She won the grand
prize at the auditions of FM Fukui BEAT PHOENIX and won the right to
perform. In the fall of 2019, she toured in the United States. (In
Chicago, Boston x2 and New York)
In July 2020, she released her third CD "ETERNAL RIDDLE"
By only an acoustic guitar and her voice, you'll feel sadness,
happiness, weakness, and strength at the same time. She has a natural
voice that attracts people to her. Please enjoy her music.
Sakura

2020.06.17 RELEASE

Sakura

2019.07.24 RELEASE
If you wish to use
services as an artist,
please register here (free)
SUBMIT YOUR MUSIC